LOVETT Scaling with Flex Sensor and MYO Armband for Monitoring Finger Muscles Therapy of Post-Stroke People
Achmad Alfian Hidayat

Politeknik Elektronika Negeri Surabaya

Zainal Arief

Politeknik Elektronika Negeri Surabaya

Dedid Cahya Happyanto

Politeknik Elektronika Negeri Surabaya
Abstract
LOVETT scale is a common parameter used by the doctor or therapist to determine the muscle strength of the patient's hands, especially patients with post-stroke. As a result of previous work of our group, a sensory glove for monitoring finger muscle therapy for post-stroke people with the name of Electronic Therapy Gloves (ETG) was proposed. With the flex sensor that embedded to the gloves we can measure the LOVETT scale of the post-stroke people. This sensory glove can help the patient doing their rehabilitation fast so that they don't have to go to the hospital every week to check up their progress. In this work, we combine the data of sensory glove and the MYO armband for LOVETT scaling that has never been done before. The output of the Electronic Therapy Gloves can be optimized by 25%. All the LOVETT grade can be identify by the gloves, then it can help the doctor monitor the patient's rehabilitation just by looking the patient's record data with ETG.
Keyword: LOVETT scale, flex sensor, MYO armband, post-stroke, rehabilitation.
Downloads
Download data is not yet available.
References
Giovanni Saggio., A novel array of flex sensors for a goniometric glove, Journal of Sensors and Actuators A: Physical, Volume 205. 1 January 2014, Rome, Italy. 2013, pp. 119-125.
S. Wise, W. Gardner, E. Sabelman, E. Valainis, Y. Wong, K. Glass, et al., Evaluation of a fiber optic glove for semi-automated goniometric measurements, Journal of Rehabilitation Research and Development 27 (4) (1990) 411–424.
L. Dipietro, A.M. Sabatini, P. Dario, Evaluation of an instrumented glove for hand movement acquisition, Journal of Rehabilitation Research and Development 40 (2) (2003) 179–190.
R. Gentner, J. Classen, Development and evaluation of a low-cost sensor glove for assessment of human finger movements in neurophysiological settings, Journal of Neuroscience Methods 178 (2009) 138–147.
K. Li, I.-M. Chen, S.H. Yeo, C.K. Lim, Development of fingermotion capturing device based on optical linear encoder, Journal of Rehabilitation Research and Development 48 (1) (2011) 69–82.
L.K. Simone, N. Sundarrajan, X. Luo, Y. Jia, D.G. Kamper, A low cost instrumented glove for extended monitoring and functional hand assessment, Journal of Neuroscience Methods 160 (2007) 335–348.
N.W. Williams, J.M.T. Penrose, C.M. Caddy, E. Barnes, D.R. Hose, P. Harley, A goniometric glove for clinical hand assessment, Journal of Hand Surgery (British and European Volume) 25B (2) (2000) 200–207.
Julaine M Florence. Intrarater Reliability of Manual Muscle Test (Medical Research Council Scale) grades in Duchenne's muscular dystrophy. Journal of the American Physical Therapy Association and Royal Dutch Society of physical therapy. Latin Americaedition 72. 1992. pp.115-122.
G. Orengo, A. Lagati, G. Saggio, Bend Sensors Modeling for Fast Signal Recoveringin Human Motion Analysis, in: 3rd Intern Conf on Sensor Device Technologies and Applications, Sensordevices, 2012, pp. 21–24.
Achmad Alfian., SENSORY GLOVES WITH MOBILE APPLICATION FOR MONITORING FINGER MUSCLES THERAPY OF POST-STROKE PEOPLE, International Electronics Symposium, Surabaya, Indonesia, 2014.
Thalmic lab. MYO armband tech specs https://www.thalmic.com/en/myo/techspecs.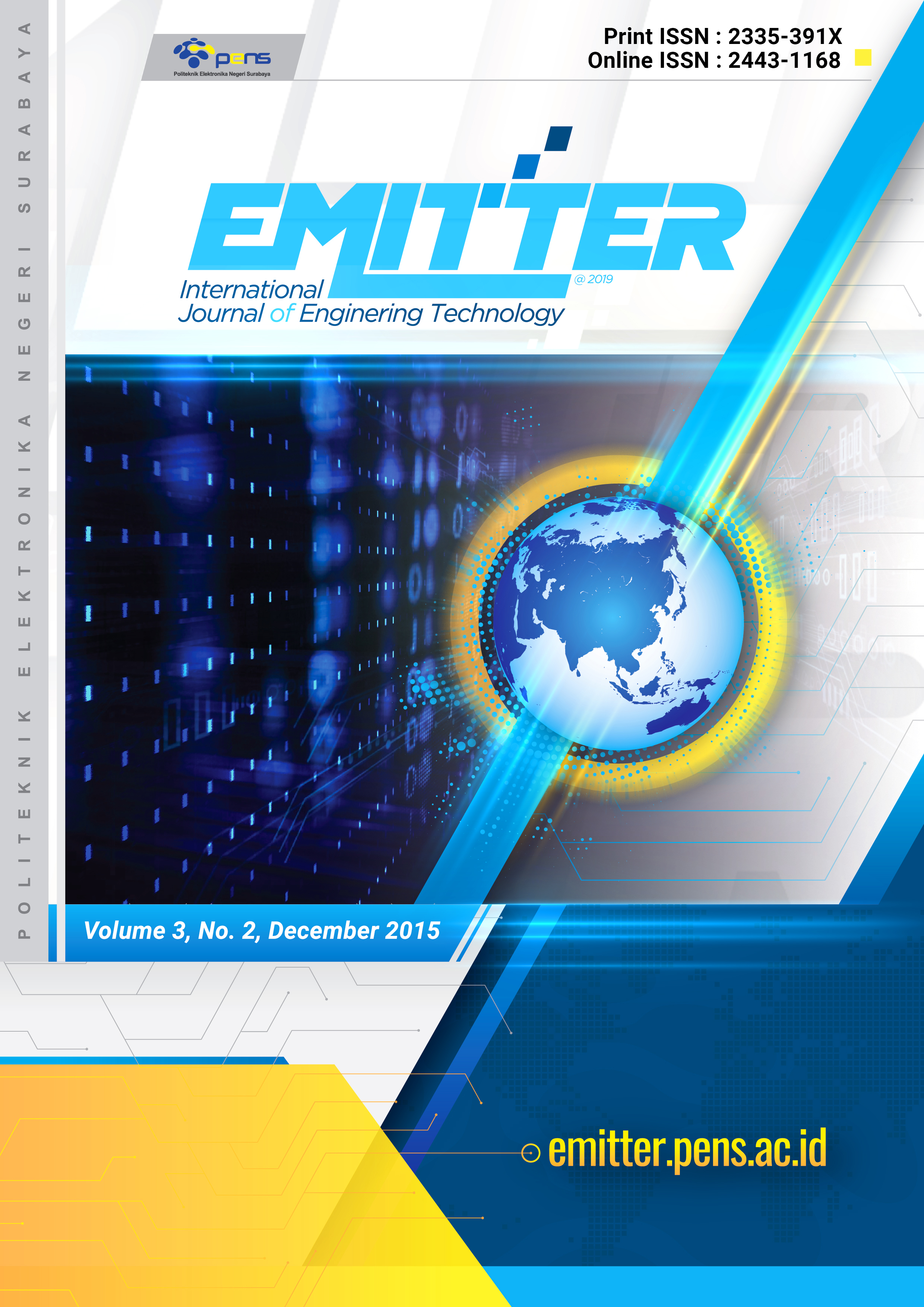 How to Cite
Alfian Hidayat, A., Arief, Z., & Happyanto, D. C. (2016). LOVETT Scaling with Flex Sensor and MYO Armband for Monitoring Finger Muscles Therapy of Post-Stroke People. EMITTER International Journal of Engineering Technology, 3(2), 60-76. https://doi.org/10.24003/emitter.v3i2.45
The copyright to this article is transferred to Politeknik Elektronika Negeri Surabaya(PENS) if and when the article is accepted for publication. The undersigned hereby transfers any and all rights in and to the paper including without limitation all copyrights to PENS. The undersigned hereby represents and warrants that the paper is original and that he/she is the author of the paper, except for material that is clearly identified as to its original source, with permission notices from the copyright owners where required. The undersigned represents that he/she has the power and authority to make and execute this assignment. The copyright transfer form can be downloaded here .
The corresponding author signs for and accepts responsibility for releasing this material on behalf of any and all co-authors. This agreement is to be signed by at least one of the authors who have obtained the assent of the co-author(s) where applicable. After submission of this agreement signed by the corresponding author, changes of authorship or in the order of the authors listed will not be accepted.
Plagiarism Check
Plagiarism screening will be conducted by EMITTER Journal Editorial Board using iThenticate Plagiarism Checker and CrossCheck plagiarism screening service. Author should download and signing declaration of plagiarism form here and resubmit it with copyright transfer form via online submission.