Spatio Temporal with Scalable Automatic Bisecting-Kmeans for Network Security Analysis in Matagaruda Project
Masfu Hisyam

Politeknik Elektronika Negeri Surabaya, Indonesia

Ali Ridho Barakbah

Politeknik Elektronika Negeri Surabaya, Indonesia

Iwan Syarif

Politeknik Elektronika Negeri Surabaya, Indonesia

Ferry Astika S

Politeknik Elektronika Negeri Surabaya, Indonesia
Abstract
Internet attacks are a frequent occurrence and the incidence is always increasing every year, therefore Matagaruda project is built to monitor and analyze internet attacks using IDS (Intrusion Detection System). Unfortunately, the Matagaruda project has lacked in the absence of trend analysis and spatiotemporal analysis. It causes difficulties to get information about the usual seasonal attacks, then which sector is the most attacked and also the country or territory where the internet attack originated. Due to the number of unknown clusters, this paper proposes a new method of automatic bisecting K-means with the average of SSE is 93 percents better than K-means and bisecting K-means. The usage of big spark data is highly scalable for processing massive data attack.
Downloads
Download data is not yet available.
References
Zarrabi and A. Zarrabi, "Internet Intrusion Detection System Service in a Cloud," IJCSI International Journal of Computer Science, vol. 9, no. 5, p. 1, 9 2012.
F. Astika, I. Winarno and M. B. Muliawan, "Implementing Network Situational Awareness in Matagaruda," in International Electronics Symposium (IES), Surabaya, 2015.
R. Zuech, T. M. Khoshgoftaar and R. Wald, "Intrusion detection and Big Heterogeneous Data: a Survey," SpringerOpen Jurnal, vol. 2, no. 3, p. 4, 2015
F. A. Saputra and A. Abdillah, "Big Data Analysis Architecture for Multi IDS Sensors using Memory based Processor," Surabaya, 2017.
M. Steinbach, G. Karypis and V. Kumar, "A Comparison of Document Clustering Techniques," Minnesota, 2000.
T. Shimeall and W. Phil, "Models of Information Security Trend Analysis," Piitsburgh.
Z. Chen and C. Ji, "Spatial-temporal modeling of malware propagation in networks," in IEEE Transactions on Neural Networks, Atlanta, 2005.
G. Jiang and G. Cybenko, "Temporal and spatial distributed event correlation for network security," in American Control Conference, Boston, 2004.
S. Harifi, "Comparative Study of Apache Spark MLlib Clustering Algorithms," in Data Mining and Big Data: Second International Conference, Fukuoka, 2017.
Y. Zhuang, Y. Mao and C. Xin, "A Limited Iteration Bisecting K-means for Fast Clustering Large Dataset," Texas, 2016.
A. R. Barakbah and K. Arai, "Determining Constrains of Moving Variance to Find Global Optimum and Make Automatic Clustering," Surabaya, 2004.
M. Tiwari and A. Bharti, "INTRUSION DETECTION SYSTEM," in International Journal of Technical Research and Applications, New Delhi, 2017.
S. Chakrabarti, I. Mukhopadhyay and M. Chakraborty, "Study of snort-based IDS," Mumbai, 2010.
T. Qureshi, "Big Data and Hadoop," in International Journal of Computer Application & Applied Sciences, CollegeFaisalabad, 2015.
M. Zaharia, M. Chowdhury, M. J. Franklin, S. Shenker and I. Stoica, "Spark: Cluster Computing with Working Sets," 2010. [Online]. Available: http://people.csail.mit.edu/matei/papers/2010/hotcloud_spark.pdf. [Accessed 2018].
Apache, "Apache Spark," Apache, [Online]. Available: https://spark.apache.org. [Accessed 28 04 2018].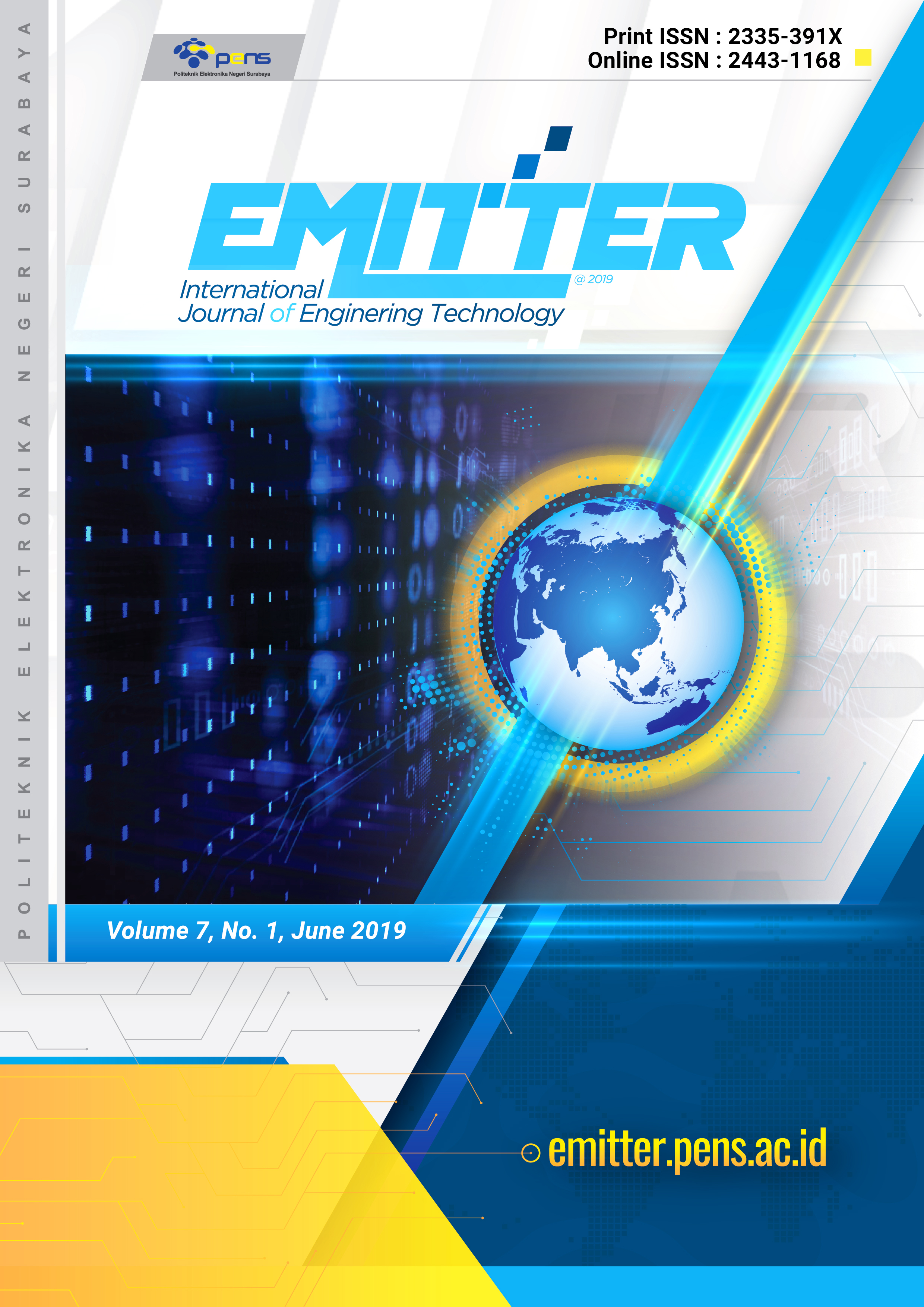 How to Cite
Hisyam, M., Barakbah, A. R., Syarif, I., & S, F. A. (2019). Spatio Temporal with Scalable Automatic Bisecting-Kmeans for Network Security Analysis in Matagaruda Project. EMITTER International Journal of Engineering Technology, 7(1), 83-104. https://doi.org/10.24003/emitter.v7i1.340
Copyright (c) 2019 EMITTER International Journal of Engineering Technology
This work is licensed under a Creative Commons Attribution-NonCommercial-ShareAlike 4.0 International License.
The copyright to this article is transferred to Politeknik Elektronika Negeri Surabaya(PENS) if and when the article is accepted for publication. The undersigned hereby transfers any and all rights in and to the paper including without limitation all copyrights to PENS. The undersigned hereby represents and warrants that the paper is original and that he/she is the author of the paper, except for material that is clearly identified as to its original source, with permission notices from the copyright owners where required. The undersigned represents that he/she has the power and authority to make and execute this assignment. The copyright transfer form can be downloaded here .
The corresponding author signs for and accepts responsibility for releasing this material on behalf of any and all co-authors. This agreement is to be signed by at least one of the authors who have obtained the assent of the co-author(s) where applicable. After submission of this agreement signed by the corresponding author, changes of authorship or in the order of the authors listed will not be accepted.
Retained Rights/Terms and Conditions
Authors retain all proprietary rights in any process, procedure, or article of manufacture described in the Work.
Authors may reproduce or authorize others to reproduce the work or derivative works for the author's personal use or company use, provided that the source and the copyright notice of Politeknik Elektronika Negeri Surabaya (PENS) publisher are indicated.
Authors are allowed to use and reuse their articles under the same CC-BY-NC-SA license as third parties.
Third-parties are allowed to share and adapt the publication work for all non-commercial purposes and if they remix, transform, or build upon the material, they must distribute under the same license as the original.
Plagiarism Check
To avoid plagiarism activities, the manuscript will be checked twice by the Editorial Board of the EMITTER International Journal of Engineering Technology (EMITTER Journal) using iThenticate Plagiarism Checker and the CrossCheck plagiarism screening service. The similarity score of a manuscript has should be less than 25%. The manuscript that plagiarizes another author's work or author's own will be rejected by EMITTER Journal.
Authors are expected to comply with EMITTER Journal's plagiarism rules by downloading and signing the plagiarism declaration form here and resubmitting the form, along with the copyright transfer form via online submission.