Internet Connection Control based on Idle Time Using User Behavior Pattern Analysis
Fadilah Fahrul Hardiansyah

Institut Teknologi Sepuluh Nopember

Joko Lianto Buliali

Institut Teknologi Sepuluh Nopember

Waskitho Wibisono

Institut Teknologi Sepuluh Nopember
Abstract
The increase of smartphone ability is rapidly increasing the power consumption. Many methods have been proposed to reduce smartphone power consumption. Most of these methods use the internet connection control based on the availability of the battery power level regardless of when and where a waste of energy occurs. This paper proposes a new approach to control the internet connection based on idle time using user behavior pattern analysis. User behavior patterns are used to predict idle time duration. Internet connection control performed during idle time. During idle time internet connection periodically switched on and off by a certain time interval. This method effectively reduces a waste of energy. Control of the internet connection does not interfere the user because it is implemented on idle time.
Keywords: Smartphone, User Behavior, Pattern Recognition, Idle Time, Internet Connection Control

Downloads
Download data is not yet available.
References
Zhang. L, B. Tiwana, R. P. Dick, Z. Qian, Z. M. Mao, Z. Wang, and L. Yang. 2010. Accurate Online Power Estimation and Automatic Battery Behavior Based Power Model Generation for Smartphones. Hardware/Software Codesign and System Synthesis: 105–114.
Zahid, I. M. A. Ali, and R. Nassr. 2011. Android Smartphone: Battery Saving Service. Research and Innovation in Information Systems: 1–4.
Khairy, A., H. H. Ammar, and R. Bahgat. 2013. Smartphone Energizer: Extending Smartphone's Battery Life with Smart Offloading. International Wireless Communications and Mobile Computing Conference: 329–336.
Kim, M. W., D. G. Yun, J. M. Lee, and S. G. Choi. 2012. Battery Life Time Extension Method Using Selective Data Reception on Smartphone. International Conference of Information Networking: 468–471.
Hyeon, Y., M. W. Kim, J. M. Lee, and S. G. Choi. 2012. Battery Life Time Extension Method by Using Signalling Interval Control. International Conference Advanced Communication Technology: 327–330.
Kang, J. M., S. S. Seo, and J. W.â€K. Hong. 2011. Usage Pattern Analisys of Smartphones. Network Operations and Management Symposium: 1–8.
Noulas, A., S. Scellato., C. Mascolo., M. Pontil. 2011. An Empirical Study of Geographic User Activity Patterns in Foursquare. Association for the Advancement of Artificial Intelligence: 570â€573.
Farrahi, K., Daniel, G. 2008. Daily Routine Classification from Mobile Phone. Machine Learning for Multimodal Interaction: 173–184.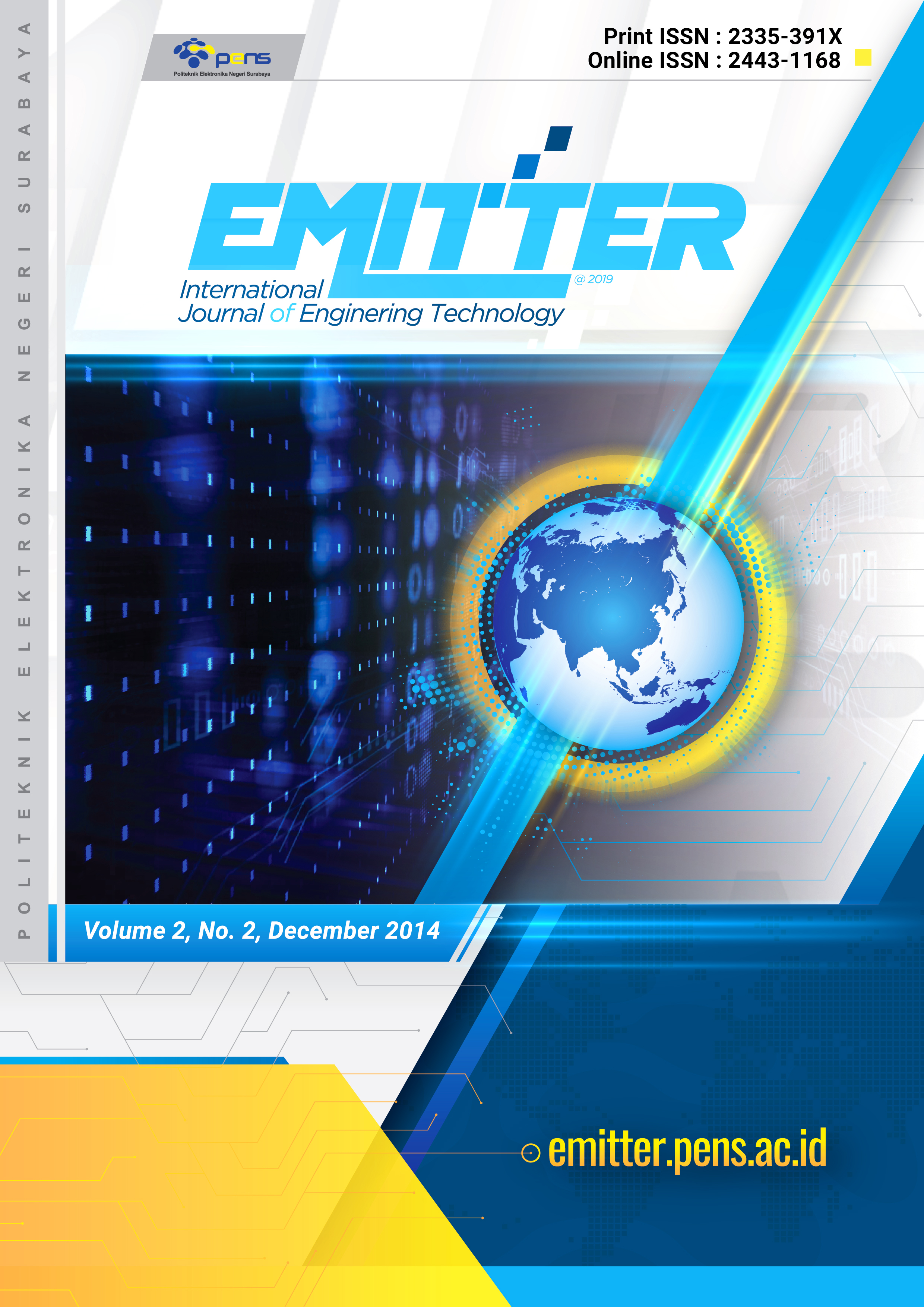 How to Cite
Hardiansyah, F. F., Buliali, J. L., & Wibisono, W. (2014). Internet Connection Control based on Idle Time Using User Behavior Pattern Analysis. EMITTER International Journal of Engineering Technology, 2(2), 49-61. https://doi.org/10.24003/emitter.v2i2.26
The copyright to this article is transferred to Politeknik Elektronika Negeri Surabaya(PENS) if and when the article is accepted for publication. The undersigned hereby transfers any and all rights in and to the paper including without limitation all copyrights to PENS. The undersigned hereby represents and warrants that the paper is original and that he/she is the author of the paper, except for material that is clearly identified as to its original source, with permission notices from the copyright owners where required. The undersigned represents that he/she has the power and authority to make and execute this assignment. The copyright transfer form can be downloaded here .
The corresponding author signs for and accepts responsibility for releasing this material on behalf of any and all co-authors. This agreement is to be signed by at least one of the authors who have obtained the assent of the co-author(s) where applicable. After submission of this agreement signed by the corresponding author, changes of authorship or in the order of the authors listed will not be accepted.
Plagiarism Check
Plagiarism screening will be conducted by EMITTER Journal Editorial Board using iThenticate Plagiarism Checker and CrossCheck plagiarism screening service. Author should download and signing declaration of plagiarism form here and resubmit it with copyright transfer form via online submission.