Indonesian Automatic Speech Recognition For Command Speech Controller Multimedia Player
Vivien Arief Wardhany

Electronics Engineering Polytechnic Institute of Surabaya

Sritrusta Sukaridhoto

Electronics Engineering Polytechnic Institute of Surabaya

Amang Sudarsono

Electronics Engineering Polytechnic Institute of Surabaya
Abstract
The purpose of multimedia devices development is controlling through voice. Nowdays voice that can be recognized only in English. To overcome the issue, then recognition using Indonesian language model and accousticc model and dictionary. Automatic Speech Recognizier is build using engine CMU Sphinx with modified english language to Indonesian Language database and XBMC used as the multimedia player. The experiment is using 10 volunteers testing items based on 7 commands. The volunteers is classifiedd by the genders, 5 Male & 5 female. 10 samples is taken in each command, continue with each volunteer perform 10 testing command. Each volunteer also have to try all 7 command that already provided. Based on percentage clarification table, the word "Kanan†had the most recognize with percentage 83% while "pilih†is the lowest one. The word which had the most wrong clarification is "kembali†with percentagee 67%, while the word "kanan†is the lowest one. From the result of Recognition Rate by male there are several command such as "Kembaliâ€, "Utamaâ€, "Atas " and "Bawah†has the low Recognition Rate. Especially for "kembali†cannot be recognized as the command in the female voices but in male voice that command has 4% of RR this is because the command doesn't have similar word in english near to "kembali†so the system unrecognize the command. Also for the command "Pilih†using the female voice has 80% of RR but for the male voice has only 4% of RR. This problem is mostly because of the different voice characteristic between adult male and female which male has lower voice frequencies (from 85 to 180 Hz) than woman (165 to 255 Hz).The result of the experiment showed that each man had different number of recognition rate caused by the difference tone, pronunciation, and speed of speech. For further work needs to be done in order to improving the accouracy of the Indonesian Automatic Speech Recognition system.
Keywords: Automatic Speech Recognizer, Indonesian Acoustic Model, CMU Sphinx, indonesian Language Model, Recognition Rate, XBMC.

Downloads
Download data is not yet available.
References
Ehsani Farzad and Knodt Sehda, Speech Technology in Computerâ€Aided Language Leraning: Strengtgs and Limitation of new Call Paradigm, LLT Journal: Speech Technology in Computerâ€Aided Language Learning, Vol 2, No 1. Pp 54â€73. 1998.
IkaNovitaDewi, FahriFirdausillah, CaturSupriyanto, Sphinxâ€4 Indonesian Isolated Digit Speech Recognition, Journal of Theoretical and Applied Information Technology, Vol. 53 No.1, Eâ€ISSN: 1817â€3195, July 2013.
V. Ferdiansyah, and A. Purwarianti, Indonesian automatic speech recognition system using Englishâ€based acoustic model, American Journal of Signal Processing 2(4): 60â€63, 2012.
Huang Xuedong, Acero alex, Hon Hsiaoâ€Wuen. Spoken Language Processing:a guide to theoty, algorithm, and system development. Prentice Hall (New Jersey), Ed , pp 05â€06, 2001.
Raza, Agha Ali. Design and Development of an Automatic Speech Recognition System for Urdu. Thesis, FASTâ€National University of Computer and Emerging Sciences, Lahore Pakistan, 2009.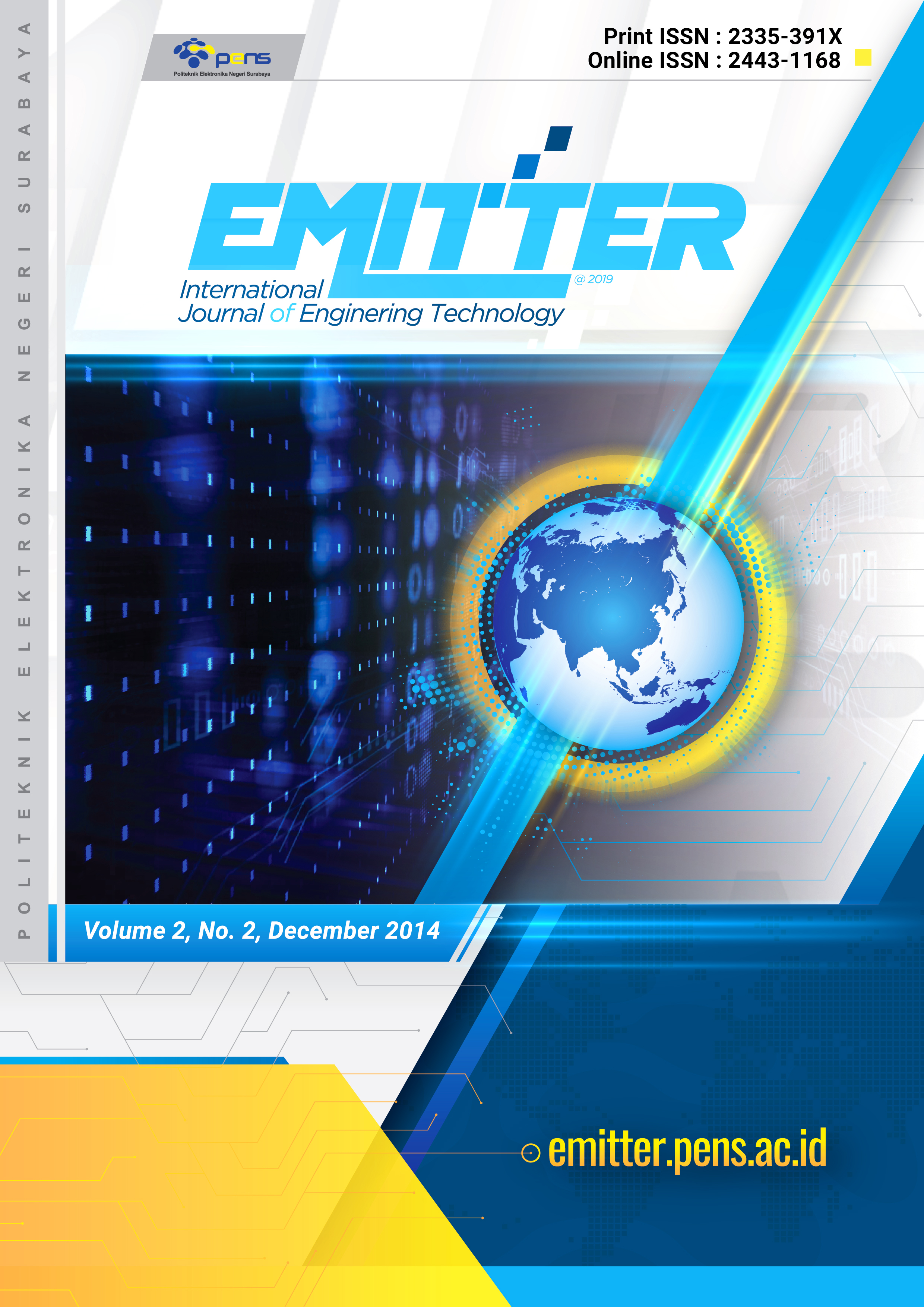 How to Cite
Wardhany, V. A., Sukaridhoto, S., & Sudarsono, A. (2014). Indonesian Automatic Speech Recognition For Command Speech Controller Multimedia Player. EMITTER International Journal of Engineering Technology, 2(2), 39-48. https://doi.org/10.24003/emitter.v2i2.25
The copyright to this article is transferred to Politeknik Elektronika Negeri Surabaya(PENS) if and when the article is accepted for publication. The undersigned hereby transfers any and all rights in and to the paper including without limitation all copyrights to PENS. The undersigned hereby represents and warrants that the paper is original and that he/she is the author of the paper, except for material that is clearly identified as to its original source, with permission notices from the copyright owners where required. The undersigned represents that he/she has the power and authority to make and execute this assignment. The copyright transfer form can be downloaded here .
The corresponding author signs for and accepts responsibility for releasing this material on behalf of any and all co-authors. This agreement is to be signed by at least one of the authors who have obtained the assent of the co-author(s) where applicable. After submission of this agreement signed by the corresponding author, changes of authorship or in the order of the authors listed will not be accepted.
Retained Rights/Terms and Conditions
Authors retain all proprietary rights in any process, procedure, or article of manufacture described in the Work.
Authors may reproduce or authorize others to reproduce the work or derivative works for the author's personal use or company use, provided that the source and the copyright notice of Politeknik Elektronika Negeri Surabaya (PENS) publisher are indicated.
Authors are allowed to use and reuse their articles under the same CC-BY-NC-SA license as third parties.
Third-parties are allowed to share and adapt the publication work for all non-commercial purposes and if they remix, transform, or build upon the material, they must distribute under the same license as the original.
Plagiarism Check
To avoid plagiarism activities, the manuscript will be checked twice by the Editorial Board of the EMITTER International Journal of Engineering Technology (EMITTER Journal) using iThenticate Plagiarism Checker and the CrossCheck plagiarism screening service. The similarity score of a manuscript has should be less than 25%. The manuscript that plagiarizes another author's work or author's own will be rejected by EMITTER Journal.
Authors are expected to comply with EMITTER Journal's plagiarism rules by downloading and signing the plagiarism declaration form here and resubmitting the form, along with the copyright transfer form via online submission.