Comparative Study of Modulation-Based Individual Inverter Techniques for Direct and Inverse by using Star-Connection Induction Motor in Extra Low Voltage Application
Ardhia Wishnuprakasa

Politeknik Elektronika Negeri Surabaya

Era Purwanto

Politeknik Elektronika Negeri Surabaya

Novie Ayub Windarko

Politeknik Elektronika Negeri Surabaya
Keywords:
Direct Inverter, Inverse Inverter, SPWM, FHIPWM
Abstract
In this study, the IEEE 519 Standard as a basis benchmarking for voltage (THDV) and current (THDI) in draft performance. Comparative Study based onthree-techniques of 2-Level Converter (2LC) by using a Star-Connection Induction Motor (Y-CIM) in ExtraLow Voltage (ELV) Configuration.For the detail explanation, a primary inverter as Direct-Inverterby PWMdirect (PWM) degreesand asecondary inverter as Inverse-Inverterby PWMinverse(PWM + PI) degrees. It tends a modified algorithm,for eachof SPWM in six rules, and FHIPWM in 5th harmonics Injectedin standard modulation as the purpose for the Open-Ends of Pre-Dual Inverter in Decoupled SPWM for twelve rules, and Decoupled FHIPWM in combination of 5th harmonics Injectedin combination of two-standard-modulation. Those techniques are the purpose of two-inverter combination, which namelythe Equal Direct-Inverse (EDI) algorithmproduct of prototyping in similarities. The observation is restricted in voltage scope between Simulation by using Power Simulator (PSIM)and Application by using Microcontroller ARM STM32F4 Discovery.
Downloads
Download data is not yet available.
References
Z. B. Ibrahim, Md. L. Hossain, I. B. Bugis, N. M. N. Mahadi, Ahmad Shukri Abu Hasim, Simulation Investigation of SPWM, THIPWM and SVPWM Techniques for Three Phase Voltage Source Inverter, International Journal of Power Electronics and Drive System (IJPEDS), Vol. 4, No. 2, June 2014, pp. 223~232, ISSN: 2088-8694.
…………, STM32F4DISCOVERY, Discovery kit with STM32F407VG MCU, DocID022204 Rev 5, STMicroelectronics, 2016.
I. Colak, R. Bayindir, E. Kabalci,A Modified Harmonic Mitigation Analysis Using Third Harmonic Injection PWM in a Multilevel Inverter Control, IEEE 14th International Power Electronics and Motion Control Conference(EPE-PEMC), pp. T2-215 - T2-220,2010.
E. G. Shivakumar, K. Gopakumar, S. K. Sinha, A. Pittet, V. T. Ranganathan, Space Vector PWM Control of Dual Inverter FedOpen-End Winding Induction Motor Drive, The Sixteenth Annual IEEE Applied Power Electronics Conference and Exposition,Anaheim, CA,Vol. 1, pp. 399-405, 2001.
M. Schweizer, T. Friedli,J.Kolar, Comparative Evaluation of Advanced Three-Phase Three-Level Inverter/Converter Topologies AgainstTwo-Level Systems, IEEE Transactions on Industrial Electronics, Vol. 60 no. 12, pp. 5515-5527, 2013.
…………, Code of Practice for the Electricity (Wiring) Regulations, Electrical and Mechanical Services Department, Hong Kong, 2015.
T. Hoevenaars, K. LeDoux, M. Colosino, Interpreting IEEE Std 519 and Meeting its Harmonic Limits in VFD Applications,The 50th IEEE Annual Conference on Industry Applications Society, Houston, TX, USA, pp. 145-150, 2003.
…………, SMPS MOSFET IRFP460APower MOSFET,PD91880International Rectifier, USA, 1999.
…………, IR2111 HALF-BRIDGE DRIVER, Data Sheet No. PD-6.028C of Control Integrated Circuit Designers Manual International Rectifier, USA.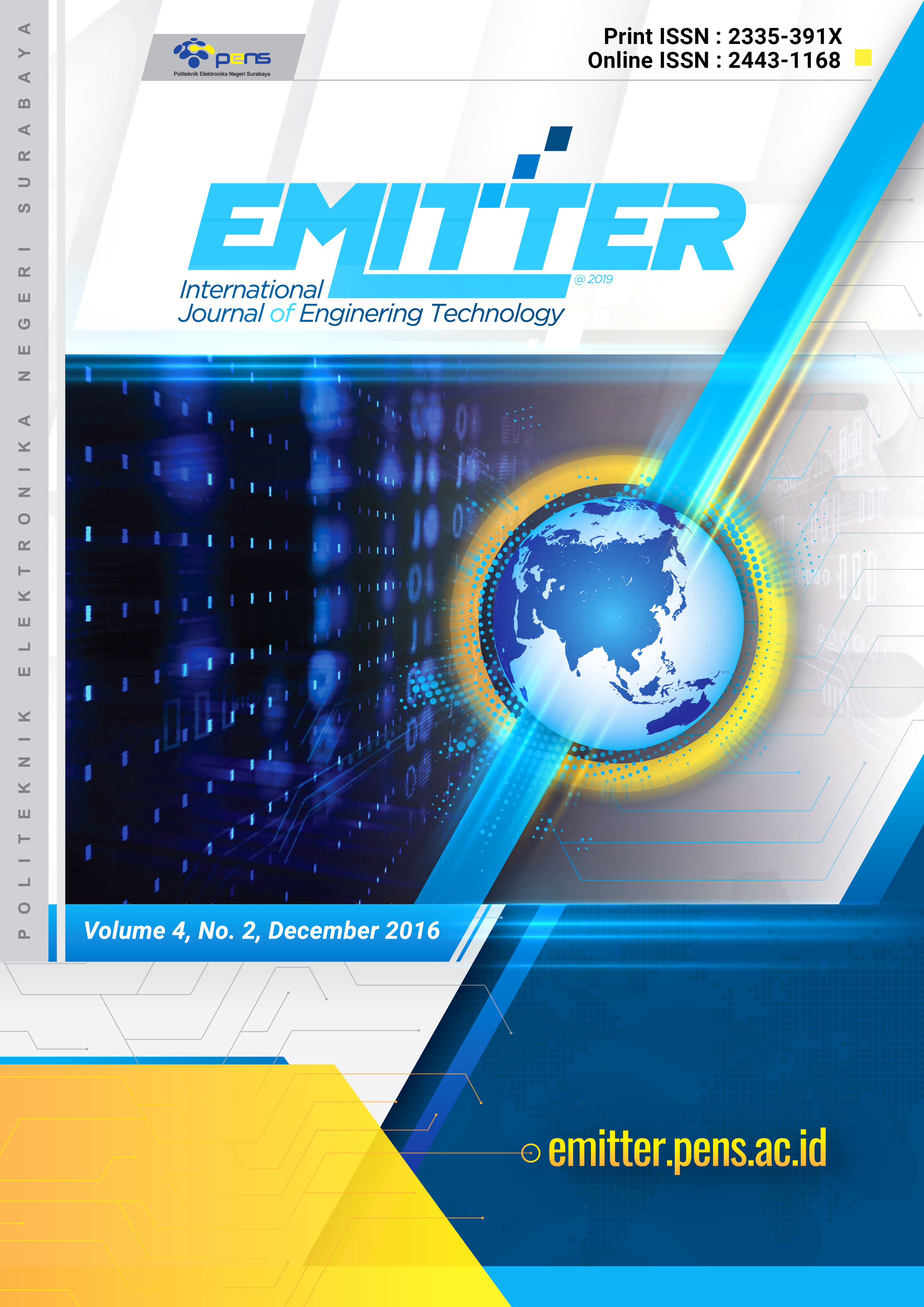 How to Cite
Wishnuprakasa, A., Purwanto, E., & Windarko, N. A. (2016). Comparative Study of Modulation-Based Individual Inverter Techniques for Direct and Inverse by using Star-Connection Induction Motor in Extra Low Voltage Application. EMITTER International Journal of Engineering Technology, 4(2), 308-323. https://doi.org/10.24003/emitter.v4i2.154
The copyright to this article is transferred to Politeknik Elektronika Negeri Surabaya(PENS) if and when the article is accepted for publication. The undersigned hereby transfers any and all rights in and to the paper including without limitation all copyrights to PENS. The undersigned hereby represents and warrants that the paper is original and that he/she is the author of the paper, except for material that is clearly identified as to its original source, with permission notices from the copyright owners where required. The undersigned represents that he/she has the power and authority to make and execute this assignment. The copyright transfer form can be downloaded here .
The corresponding author signs for and accepts responsibility for releasing this material on behalf of any and all co-authors. This agreement is to be signed by at least one of the authors who have obtained the assent of the co-author(s) where applicable. After submission of this agreement signed by the corresponding author, changes of authorship or in the order of the authors listed will not be accepted.
Retained Rights/Terms and Conditions
Authors retain all proprietary rights in any process, procedure, or article of manufacture described in the Work.
Authors may reproduce or authorize others to reproduce the work or derivative works for the author's personal use or company use, provided that the source and the copyright notice of Politeknik Elektronika Negeri Surabaya (PENS) publisher are indicated.
Authors are allowed to use and reuse their articles under the same CC-BY-NC-SA license as third parties.
Third-parties are allowed to share and adapt the publication work for all non-commercial purposes and if they remix, transform, or build upon the material, they must distribute under the same license as the original.
Plagiarism Check
To avoid plagiarism activities, the manuscript will be checked twice by the Editorial Board of the EMITTER International Journal of Engineering Technology (EMITTER Journal) using iThenticate Plagiarism Checker and the CrossCheck plagiarism screening service. The similarity score of a manuscript has should be less than 25%. The manuscript that plagiarizes another author's work or author's own will be rejected by EMITTER Journal.
Authors are expected to comply with EMITTER Journal's plagiarism rules by downloading and signing the plagiarism declaration form here and resubmitting the form, along with the copyright transfer form via online submission.