Decision Support System for Indonesian Government Fast E-Tendering Based on Vendor Classification
Edi Wahyu Widodo

Department of Graduate Program of Information and Computer Engineering, Electronic Engineering Politechnic Institute of Surabaya

Tri Harsono

Politeknik Elektronika Negeri Surabaya

Ali Ridho Barakbah

Politeknik Elektronika Negeri Surabaya
Abstract
In the last few years in the world of auctions, electronic auctions become a hot topic for discussion, especially in Indonesia. In Indonesia, the auction has been using online electronic system since 2007 with all its advantages and disadvantages. This system is one of a fairly successful program in a good governance. Until now, there are 620 government agencies in Indonesia have been using this electronic procurement systems[19]. The Government can perform a budget efficiency nearly 5% of the total budget by using today's electronic procurement system. The current system is good enough, but there are still some deficiencies found. Some of solutions to cover the deficiency offered in this paper. Starting from the classification of goods or services according to the UNSPSC, applying business classification with ISIC Indonesia in 2009, recording the activity of vendors for consideration decision, and implementing a decision support system using AHP to facilitate the auction committee to determine the winner. All of above matters are intended to improve the effectiveness and efficiency of the current system.
Downloads
Download data is not yet available.
References
Presidential Decree No.4 of 2015
Head of The Central Statistics Regulation Number 57 of 2009.
Michela Burla, Eliot Laniado, Fosca Romani, Paola Tagliavini, The Role of Decision Support Systems (DSS) in Transportation Planning: the Experience of the Lombardy Region, Seventh International Conference On Competition And Ownership In Land Passenger Transport Molde, Norway, June 25-28, 2001.
N.M. Mohamad Noor, K.N. Papamichail, B. Warboys, An Integrated Web-Based Decision Support System For Tendering Processes, Joint International Conference on Computing and Decision Making in Civil and Building Engineering, Montréal - Canada, June 14-16, 2006.
Anna Khripunova, Konstantin Vishnevskiy, Oleg Karasev, Dirk Meissner, Intelligent Data Systems To Aid Decision-Making At Tenders For Oil And Gas Fields Development, Working Paper Science And Technology And Innovation: WP BRP 07/STI/2013, National Research University Higher School Of Economics (HSE), Moscow, Russia, 2013.
Lam, K. C., et al. Decision support system for contractor pre-qualification-artificial neural network model, Engineering, Construction and Architectural Management 7.3 (2000): 251-266.
Michael Rebstock, Fengel Janina, Heiko Paulheim, Ontologies-Based Business Integration, Springer Science & Business Media, Feb 28, 2008.
Munindar P. Singh, The Practical Handbook of Internet Computing, CHAPMAN & HALL/CRC Computer and Information Science Series, 2005.
Vikram Singh and Balwinder Saini, An Effective Tokenization Algorithm For Information Retrieval Systems, Departement of Computer Engineering, National Institute of Technology Kurukshetra, Haryana, India, 2014.
Tanu Verma and Renu and Deepti Gaur, Tokenization and Filtering Process in RapidMiner, International Journal of Applied Information System (IJAIS), 2014.
Joel Larocca Neto and Alexandre D. Santos and Celso A.A. Kaestner and Neto Alexandre and D. Santos and Celso A. A and Kaestner Alex and Alex A. Freitas, Document Clustering and Text Summarization, Pontificia Universidade Catolica do Parana, Postgraduate Program in Applied Computer Science, Brazil, 2000.
Martin Hepp, Joerg Leukel, and Volker Schmitz, A Quantitative Analysis of Product Categorization Standards: Content, Coverage, and Maintenance of eCl@ss, UNSPSC, eOTD, and the RosettaNet Technical Dictionary, Springer, 2006
Leo Obrst Robert E. Wray Howard Liu, Leo Obrst Robert E. Wray Howard LiuOntological Engineering for B2B E-Commerce, Proceedings of the international conference on Formal Ontology in Information Systems, 2001
Bjornar Larsen and Chinatsu Aone, Fast and effective text mining using linear-time document clustering, Proceedings of the fifth ACM SIGKDD international conference on Knowledge discovery and data mining, 1999
Weiguo Fan, Linda Wallace, Stephanie Rich, Zhongju Zhang, Tapping the power of text mining, Magazine Communications of the ACM - Privacy and security in highly dynamic systems, Volume 49 Issue 9, September 2006
Tuomo Kakkonen and Tabish Mufti, Developing and applying a company, product and business event ontology for text mining, Proceedings of the 11th International Conference on Knowledge Management and Knowledge Technologies, 2011
Yue Dai, Tuomo Kakkonen, Erkki Sutinen, MinEDec: a Decision-Support Model That Combines Text-Mining Technologies with Two Competitive Intelligence Analysis Methods, International Journal of Computer Information Systems and Industrial Management Applications, 2011
Nathan Treloar, AvaQuest, Text Mining: Tools, Techniques, and Applications, Knowledge Technologies Conference 2002 / Westin Seattle Hotel - Seattle, WA – USA, March 11-14, 2002.
http://report-lpse.lkpp.go.id, Lembaga Kebijakan Pengadaan Barang/Jasa Pemerintah.
Kementerian Keuangan Republik Indonesia, Direktorat Penyusunan APBN, Direktorat Jenderal Anggaran, Informasi APBN 2016.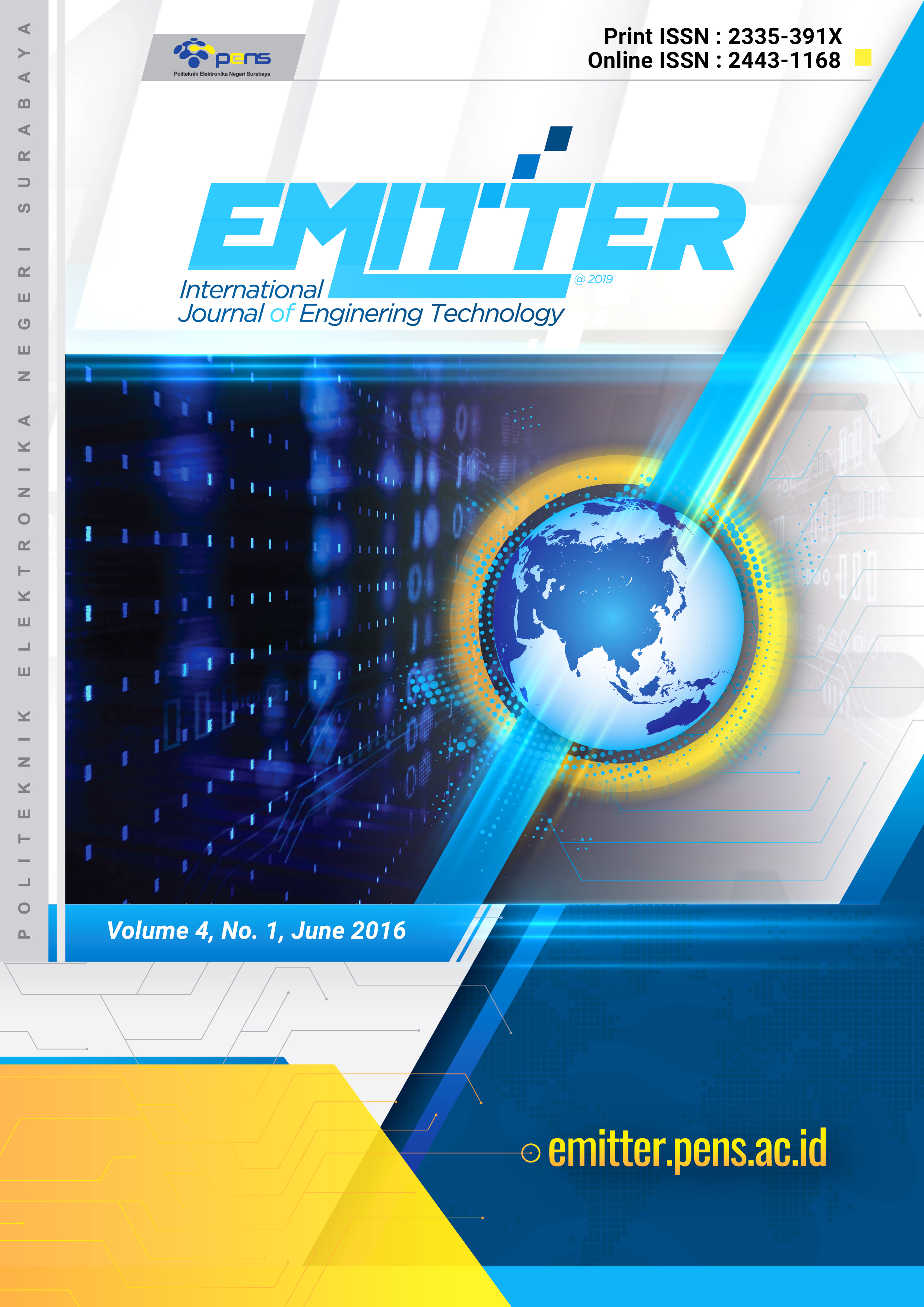 How to Cite
Widodo, E. W., Harsono, T., & Barakbah, A. R. (2016). Decision Support System for Indonesian Government Fast E-Tendering Based on Vendor Classification. EMITTER International Journal of Engineering Technology, 4(1), 202-220. https://doi.org/10.24003/emitter.v4i1.121
The copyright to this article is transferred to Politeknik Elektronika Negeri Surabaya(PENS) if and when the article is accepted for publication. The undersigned hereby transfers any and all rights in and to the paper including without limitation all copyrights to PENS. The undersigned hereby represents and warrants that the paper is original and that he/she is the author of the paper, except for material that is clearly identified as to its original source, with permission notices from the copyright owners where required. The undersigned represents that he/she has the power and authority to make and execute this assignment. The copyright transfer form can be downloaded here .
The corresponding author signs for and accepts responsibility for releasing this material on behalf of any and all co-authors. This agreement is to be signed by at least one of the authors who have obtained the assent of the co-author(s) where applicable. After submission of this agreement signed by the corresponding author, changes of authorship or in the order of the authors listed will not be accepted.
Retained Rights/Terms and Conditions
Authors retain all proprietary rights in any process, procedure, or article of manufacture described in the Work.
Authors may reproduce or authorize others to reproduce the work or derivative works for the author's personal use or company use, provided that the source and the copyright notice of Politeknik Elektronika Negeri Surabaya (PENS) publisher are indicated.
Authors are allowed to use and reuse their articles under the same CC-BY-NC-SA license as third parties.
Third-parties are allowed to share and adapt the publication work for all non-commercial purposes and if they remix, transform, or build upon the material, they must distribute under the same license as the original.
Plagiarism Check
To avoid plagiarism activities, the manuscript will be checked twice by the Editorial Board of the EMITTER International Journal of Engineering Technology (EMITTER Journal) using iThenticate Plagiarism Checker and the CrossCheck plagiarism screening service. The similarity score of a manuscript has should be less than 25%. The manuscript that plagiarizes another author's work or author's own will be rejected by EMITTER Journal.
Authors are expected to comply with EMITTER Journal's plagiarism rules by downloading and signing the plagiarism declaration form here and resubmitting the form, along with the copyright transfer form via online submission.