Mobile Application to Identify Indonesian Flowers on Android Platform
Tita Karlita

Politeknik Elektronika Negeri Surabaya

Achmad Basuki

Politeknik Elektronika Negeri Surabaya

Lakmi Makarti

Politeknik Elektronika Negeri Surabaya
Abstract
Although many people love flowers, they do not know their name. Especially, many people do not recognize local flowers. To find the flower image, we can use search engine such as Google, but it does not give much help to find the name of local flower. Sometimes, Google cannotshow the correct name of local flowers. This study proposes an application to identify Indonesian flowers that runs on the Android platform for easy use anywhere. Flower recognition is based on the color features using the Hue-Index, shape feature using Centroid Contour Distance (CCD), and the similarity measurement using Entropy calculations. The outputs of this application are information about inputted flower image including Latinname, local name, description, distribution and ecology. Based on tests performed on 44 types of flowers with 181 images in the database, the best similarity percentage is 97.72%. With this application, people will be expected to know more about Indonesia flowers.
Keywords: Indonesian flowers, android, hue-index, CCD, entropy
Downloads
Download data is not yet available.
References
S. Muhamad Isa and Yoga Pradana, Flower Image Retrieval Berdasarkan Color Moments, Centroid-Contour Distance dan Angle Code Histogram, Universitas Tarumanagara, Jakarta, 2008.
V. N. Gudivada and V. V. Raghavan, Special issue on content-based image retrieval systems - guest eds, IEEE Computer. 28(9), 1995.
Andrianto Susilo, Web Image Retrieval untuk identifikasi Bunga dengan Pengelompokkan Content Menggunakan Ciri Warna dan Bentuk, EEPIS, 2008
Cahya Rahmad, Achmad Basuki, Image Retrieval Menggunakan Hue Index Histogram, Jurnal Teknologi & Manajemen Informatika, Vol. 6 No. 2, Mei 2008.
S. Sural, G. Qian and S. Pramanik, Segmentation and Histogram Generation Using the HSV Color Space for Image Retrieval, Michigan State University, USA, 2002.
Achmad Basuki, Aplikasi Pengolahan Citra: Deteksi Warna, Politeknik Elektronika Negeri Surabaya, 2006.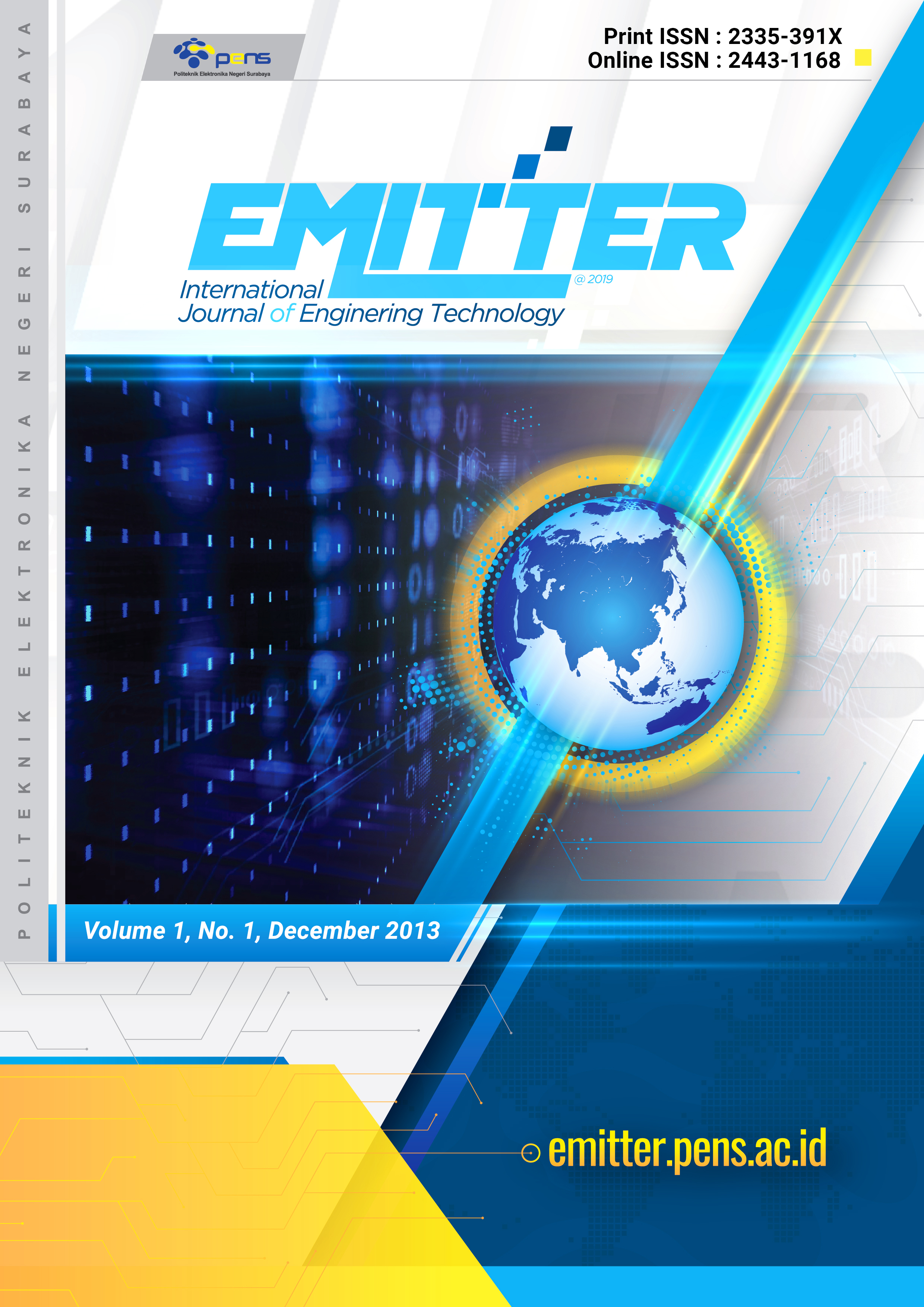 How to Cite
Karlita, T., Basuki, A., & Makarti, L. (2013). Mobile Application to Identify Indonesian Flowers on Android Platform. EMITTER International Journal of Engineering Technology, 1(1). https://doi.org/10.24003/emitter.v1i1.10
The copyright to this article is transferred to Politeknik Elektronika Negeri Surabaya(PENS) if and when the article is accepted for publication. The undersigned hereby transfers any and all rights in and to the paper including without limitation all copyrights to PENS. The undersigned hereby represents and warrants that the paper is original and that he/she is the author of the paper, except for material that is clearly identified as to its original source, with permission notices from the copyright owners where required. The undersigned represents that he/she has the power and authority to make and execute this assignment. The copyright transfer form can be downloaded here .
The corresponding author signs for and accepts responsibility for releasing this material on behalf of any and all co-authors. This agreement is to be signed by at least one of the authors who have obtained the assent of the co-author(s) where applicable. After submission of this agreement signed by the corresponding author, changes of authorship or in the order of the authors listed will not be accepted.
Plagiarism Check
Plagiarism screening will be conducted by EMITTER Journal Editorial Board using iThenticate Plagiarism Checker and CrossCheck plagiarism screening service. Author should download and signing declaration of plagiarism form here and resubmit it with copyright transfer form via online submission.